Undeclared marathon.

1.) Where did you get late-night food?
Loved the Bella when we lived in the Collegian, chicken cheesesteaks at Louies when we lived in South.

2.) What was the worst class you ever had?
World Religions, but I dropped it, thank Jesus.

3.) What was the best class you ever had?
Shakespeare and Brit Lit with the most hilarious professor ever.

4.) Who was your favorite professor?
Same guy. Too bad he wasn't around after my junior year.

5.) Who was your least favorite professor?
Hated my meteo professor. And hated meteo too.

6.) Favorite college bar?
Oh god - The Gaff and Zeno's on Tuesdays, Saloon on Friday, Crowbar on Thursday for Nickel Night.


7.) Best sporting event attended?
Nebraska game sophomore year. I'm also partial to the last PSU game my senior year. I'll admit that I cried.

8.) Best concert attended?
Of course it was *N Sync freshman year. :)

9.) The best time to have a class?
anytime that wasn't 8AM.

10.) favorite drink?
Stawberry Banana Monkeyboys at the Saloon, obvi.

11.) what was your first dorm room?
107 Hastings Hall in East

12.) First roommate?
The lovely and talented Kate Kapus - miss you Kate!

13.) The funniest nickname for a person in college?
GOODY! Still funny every time.

14.) Craziest friend?
Ummmm, there were quite a few.

15.) Books . . . buy? Borrow? Or not buy?
Bought, unfortunately.

16.) How many parking tickets?
1, which remains unpaid. Whoops!

17.) Favorite cafeteria food?
I loved any of those themed dinners. Though my favorite item was Banana Wafer Pudding.

18.) Funniest person?
ALL my friends are funny! That's why they're my friends!

19.) Oddest moment?
I refuse to mention those again. Oh no! I will mention the time that Jennie fought with her mom on the phone at 9AM, then wrapped herself in an afghan, and drank Apple Pucker straight.

20.) Ever take a naked drawing class?
Good christ, no. I would've ended up with a naked stick figure.

21.) Physical Education classes taken?
Yoga and Ballroom Dance. Both were AMAZING.

23.) Any clubs or organizations?
Of course! Circle K (the glory years, anyway), Lion Ambassadors, Writing Center tutors, Mortar Board, THON, etc, etc.

24.) First friend on the first day freshman year?
Awww, Kate, of course. I also met a lot of my other good friends freshman year: Laura, Lauren, Chris, other Circle K peeps, you know.

25.) School mascot?
Hail to the Lion!

26.) Favorite recreational sport (besides beer pong)?
Flip Cup!! (Maybe that's not what the question meant, but WHATEVER.)

27.) Favorite place to live?
401 Collegian was the best apartment ever.

28.) Best road trip?
We made a lot of road trips. Driving to Philly, getting snowed in, and drinking all dat at Drexel, Pittsburgh, Wilkes-Barre, DC. Most of them involved Circle K.

29.) Best drunken time?
Okkkkaaaaay, here we go: the first time I was ever drunk - Halloween Party my freshman year. Even though I ended up sleeping in the bathroom, it was totally worth it. A couple of the all-nighters in Hetzel sophomore year. All of our parties in the Collegian, especially the Valentine's Day one. My belated 21st birthday party. Every single Nickel Night. The Senior Week night when we decided it would be a good idea to camp out in front of the Penn Stater. The Luau party on Atherton street in the middle of the hurricane. All of the Asshole parties in our PJs. So many more...

30.) How many friends from your college days do you talk to each week?
Becky and Lauren mostly. I love you all though!

31.) if applicable, did you go to class on 9/11?
I had just gotten to Reading Fiction when the 2nd plane hit, so our professor just sent us all home. I went straight to the Blood Drive we were sponsoring and stayed there all day. It was sooooo crowded. The best part was when Papa John's showed up unannounced with 30 pizzas for everyone waiting in line.

32.) Best function?
Sesquicentennial Gala at Beaver Stadium, both NMR parties, Homecoming.

33.) Ever stay for a summer session?
No, I really wish I had though.

35.) Best campus job?
Writing Center tutoring was the best.

36.) Strangest place on campus?
North Halls was a mystery to me. Also Frat Row - yikes.

37. Ever paint your face for a sporting event?
Not the whole thing - just paws and stuff.

38. What year did you graduate?
May 05.

39. Get your degree?
Of course!

40. Any regrets?
NEVER. Best five years of my life - haha.
This is appropriate since I'm currently reliving college by having an
Current Mood:

mellow

Current Music:

Watching Undeclared
Studio 60 is now in limbo, possibly never to come back, I've picked up Heroes! I'm now completely caught up and dying for next week. I'm having a little trouble with those rumors about the Milo/Alexis Bledel possibly abusive relationship...I'm sure there's some kind of explanation! He's just TOO cute.

Anyways. That's all for now. I promise that I will feel inspired to write something longer than a paragraph later this week.
Since my beloved
Current Mood:

thankful

Current Music:

Watching American Idol


Let's talk about the Globes, shall we? The whole Dreamgirls obsession is so...boring. As much as I love musicals, I'm just not interested in seeing it. But America Ferrera is all kinds of adorable, and my Office peeps looked like they were having a good time, so everything's straight.

And speaking of that,The Office just gets better and BETTER. I have to watch every episode at least twice to absorb most of the jokes. And even then, I don't pick up them all. Por ejemplo, I didn't notice until I read the EW recap on Friday that when Michael came to get Dwight at Staples and bring him back to good ol' Dunder Mifflin, the Muzak version of "Love Lift Us Up Where We Belong" was playing in the store. A nod to the end of An Officer and a GentlemanSpring Awakening. At the very least, check out the very free podcast on ITunes. Or just download the song, "Touch Me" and you'll understand a tiny piece of my new obsession.
If I were a stronger person, I'd be braving the weather to do some drinking. Instead, I am cozied up in my 'Boken living room, watching Alexis Bledel dancing in a forest. (BTdubs, I cannot WAIT to get my hands on the fourth Sisterhood book...are they making another movie?) Anyway, I'm way too happy to be here. It's going to be a crazy week.
Current Mood:

relaxed

Current Music:

Tuck Everlasting
You're the One That I Want should be made to star in Grease 2 on Broadway.
The losers of
Current Mood:

recumbent

Current Music:

Supernanny
were all women.

Anyway, I'm dying that there wasn't a new Studio 60 last night, and that next week is a rerun of last week's. In a fit of despair, I added the first season of The West Wing to my Netflix queue today.

Tomorrow is 2nd on 2nd karaoke with some of the BEST IN TOWN. Cannot wait.
Bradley Whitford is sexy in that he was your sixth grade math teacher and he was cool and smart and kinda funny, and it was your first boy/girl thing but you didn't really know it yet? Anyone? Not that I had that math teacher. I went to a Catholic school, and while all our teachers weren't nuns, they
Current Mood:

hyper

Current Music:

Watching Guys and Dolls
I've started takine a free online "Fear of Flying" course writen by someone with the ridiculously fake-sounding name of Captain Stacy L. Chance. Being that I already start to hyperventilate just thinking about getting onto the plane next Friday, I really hope this works. Either that, or I'll drug the hell out of myself.
Current Mood:

scared

Current Music:

Morning News


I'm trying to detox now from all the food and alcohol. I drink 4 huge bottles of water and had a big salad for lunch today. Now if I could just get to the gym.

It's just about time for one of my Monday night TV loves: How I Met Your Mother. Hilarious, plus, I would pretty much do all of the guys on this show. WHAT?? It's a rerun. As much as I love it and would watch it again, I haven't watched last week's Grey's yet.

Also on my raydar today: George Clooney's 18 year old arthritic and half blind pig died!! So sad. Not to mention - Adam Brody and Rachel Bilson are DUNZO. She can do better I think. She's cute and he's vaguely annoying. She should get with Ryan Atwood. He's always been the hotter one.

What's up George O'Malley?? You're way cuter than Torres. Dump her.
I'm still coming down from pretty much the best weekend of my life. Back with all the besties at PSU for a whole 2 and a half days. Saloon, , Deli, Gaff, Brewery, not to mention the Waffle Shop. Friday night was like magic - a perfect night at the Saloon with Velveeta, Monkeyboys, free fries, and patriot song sing-a-longs! The dream almost died when we got to the Saloon at our deadline - 5:55 and the doors were LOCKED. Locked!!! What is that?? We stood outside in the cold for a good 15 minutes before one of those wonderful Saloon bouncers finally came to let us in. He claimed he wasn't charging us cover because he didn't have change, but some of us had perfect change AND he charged the people who came in behind us. New best friend. The Monkeyboys weren't as flavorful as I would have liked, but no matter.
Current Music:

Watching Grey's


This is creepy - just watch the first 2 minutes.


And let's relive a favorite Britney moment:



Notice pre-Entourage Adrien Grenier.
ALSO, hot, single Britney returns!! Someone get that girl some new choreography, spray her with some oil, and give us a new video!
Current Mood:

energetic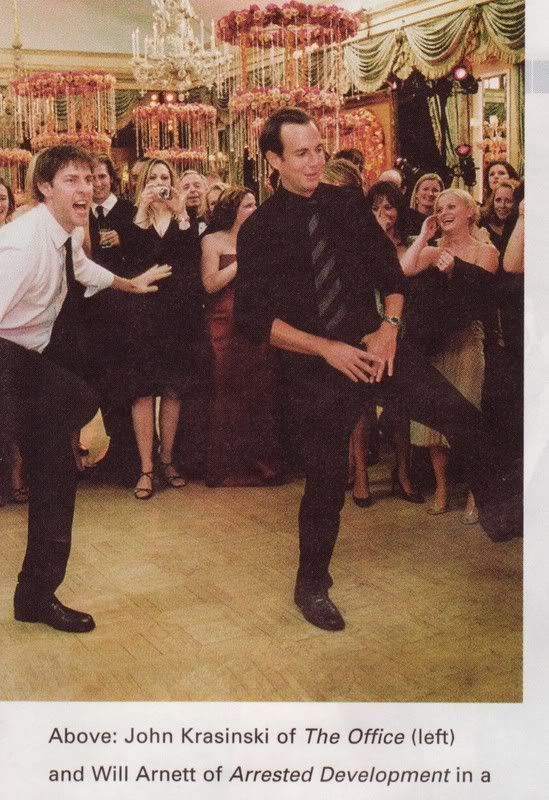 GOB and Jim Halpert DANCE OFF!!
Current Mood:

thankful
Current Mood:

chipper

Current Music:

Newsradio - I'm almost done!